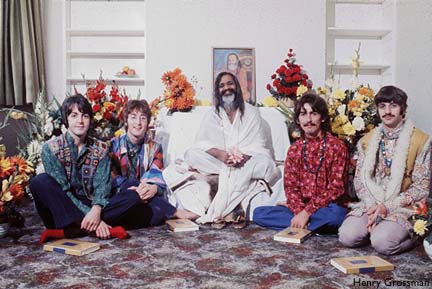 Maharishi Mahesh Yogi
passed away in the Dutch village of Vlodrop on February 5th. He was thought to have been in his 90s.
The Maharishi earned his spot in the pages of counter-culture history when he became a spiritual advisor to The Beatles and even hosted them on several of their sojourns through India.
Some would argue that he was no more than a svengali in the guise of a holy man while others do give him credit for introducing
Transcendental Meditation
to a wider audience.
What can't be doubted is that the Maharishi used his friendship with the fab four to rocket to stardom and was soon in first-class style with followers that included Donovan, Mick Jagger, Marianne Faithful and Mia Farrow.
As the 60s faded so did the Maharishi. His rock star pets grew suspicious of his clinging ways and moved on in search of other highs while their "teacher" faded largely into obscurity except for a 2002 scheme that included combating terrorism through the use of 40,000 "expert" meditators.