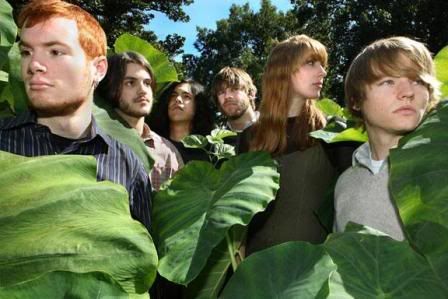 Raleigh, NC band
The Annuals
will be bringing their lovely alt pop sound to Brooklyn's Union Pool on Wednesday, June 18th.
The six piece will also hit
Sound Fix
earlier in the day (6:00 p.m.) for an in-store where they'll be playing tune from their new EP
Wet Zoo
(Canvasback/Ace Fu).
And speaking of zoos, the animal-friendly band is also having a contest where you can win tickets to one of their upcoming shows and passes to a zoo or aquarium in your town or sponsorship of one of those cuddly little zoo critters in your name.
(It's not exactly cuddly, but I'm partial to penguins, myself.)
You can enter the contest
here
.
Upcoming Tour Dates:
June 18 - Brooklyn, NY at Sound Fix Records (in-store performance)
June 18 - Brooklyn, NY at Union Pool
June 19 - Arlington, VA at Iota
June 20 - Philadelphia, PA - Millcreek Tavern
June 21 - Carrboro, NC at Arts Center